BNP Paribas Corporate & Investment Banking organized its first-ever Digital Week (#DW17) for employees in January 2017, with events in New York, Montreal, Sao Paulo, Paris and London. By putting the latest trends in digitalization under the spotlight, we explored how the Bank can harness the latest technologies to create new business opportunities and new ways of working.
To read more about the brave new digital world at BNP Paribas CIB, click here.
BNP Paribas Securities Services, a leading global custodian with over $9 trillion in assets under custody, today announced the appointment of Claudine Gallagher as Head of its Americas region.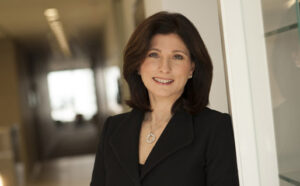 Gallagher added Latin America to her existing mandate as Head of Securities Services North America, effective January 2017. In this expanded role, Gallagher assumes responsibility for driving growth across the entire Americas region, including the execution of global segment and product strategies.
"Throughout the past five years, Claudine has been instrumental in building our U.S. capabilities. With her leadership, we will continue to strengthen our presence across the Americas," said José Placido, Global Head of Client Development at BNP Paribas Securities Services. "This is our latest step to support clients' ambitions in this high-potential region and make the most of our collective strengths."
Since 2010, BNP Paribas Securities Services has rapidly expanded in the Americas, launching local custody and clearing in the United States, Brazil, Colombia and, most recently, Peru.
Alvaro Camuñas, who previously led BNP Paribas Securities Services' development in Latin America, was appointed Global Head of Sales and Global Relationship Management last year.
Andrea Cattáneo and Claudia Calderón – the country heads of Brazil and Colombia, respectively – will join the regional Executive Board, reporting directly to Gallagher.
Figures as at 31 December 2016
About BNP Paribas Securities Services 
BNP Paribas Securities Services, a wholly owned subsidiary of the BNP Paribas Group, is a leading global custodian and securities services provider. Backed by the strength of the BNP Paribas Group, we provide multi-asset post-trade and asset servicing solutions for buy and sell-side market participants, corporates and issuers. With offices in 34 countries and a global reach covering over 95 markets, our network is one of the most extensive in the industry, enabling clients to maximise their investment opportunities worldwide.

Press Contacts
Cesaltine Gregorio
cesaltine.gregorio@us.bnpparibas.com
+1 212 841 3719
BNP Paribas Americas on Twitter: @BNPPAmericas
BNP Paribas Securities Services on Twitter: @BNPP2S