The Board of Directors of BNP Paribas met on 4 February 2021. The meeting was chaired by Jean Lemierre and the Board examined the Group's results for the fourth quarter and endorsed the 2020 financial statements.
To read press release and global presentation: click HERE
Contacts:
Hacina Habchi
Tel : +33(0)7 61 97 65 20
hacina.habchi@bnpparibas.com
Sandrine Romano
Tel : +33(0)6 71 18 23 05
sandrine.romano@bnpparibas.com
Floriane Ettwiller
Tel : +33(0)7 62 27 48 34
floriane.ettwiller@bnpparibas.com
The Board of Directors of BNP Paribas met on November 2, 2020. The meeting was chaired by Jean Lemierre and the Board examined the Group's results for the third quarter 2020.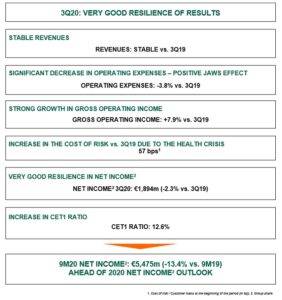 To read press release and global presentation: click HERE
Contacts:
Hacina Habchi
Tel : +33(0)7 61 97 65 20
hacina.habchi@bnpparibas.com
Sandrine Romano
Tel : +33(0)6 71 18 23 05
sandrine.romano@bnpparibas.com
Floriane Ettwiller
Tel : +33(0)7 62 27 48 34
floriane.ettwiller@bnpparibas.com
The Board of Directors of BNP Paribas met on 2 November 2020. The meeting was chaired by Jean Lemierre and the Board examined the Group's results for the third quarter 2020.
Board of Directors of BNP Paribas met on 30 July 2020. The meeting was chaired by Jean Lemierre and the Board examined the Group's results for the second quarter 2020 and endorsed the interim financial statements for the first half of the year.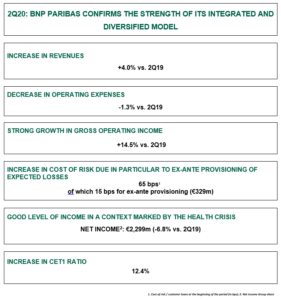 To read press release and global presentation: click HERE
Contacts:
Hacina Habchi
Tel : +33(0)7 61 97 65 20
hacina.habchi@bnpparibas.com
Sandrine Romano
Tel : +33(0)6 71 18 23 05
sandrine.romano@bnpparibas.com
Floriane Ettwiller
Tel : +33(0)7 62 27 48 34
floriane.ettwiller@bnpparibas.com
The Board of Directors of BNP Paribas met on 4 May 2020. The meeting was chaired by Jean Lemierre, and the Board examined the Group's results for the first quarter 2020.
Commenting on these results, Chief Executive Officer Jean-Laurent Bonnafé, stated at the end of the meeting:
"In response to the health crisis, the Group's teams have mobilized around the world to contribute to the functioning of the economy and its financing.
Our concerns have been to protect our employees who are fully mobilized to ensure banking services, to quickly implement solutions to support the financing of our corporate, institutional and individual clients, and to launch in all regions where we are present a plan for emergency donations to the hospital sector and organizations committed to assist vulnerable people.
At the end of a quarter supported by an excellent business drive, in line with its 2020 objectives, the results of BNP Paribas for the 1st quarter 2020 were impacted by the harshness of the health crisis. The good resilience of revenues and results despite this shock demonstrates the robustness of the Group's diversified and integrated model.
With all teams at BNP Paribas, whose I want to thank tireless commitment to serving customers and providing support to society, we will continue our efforts to mitigate the impact of the crisis on the economy and prepare for the future."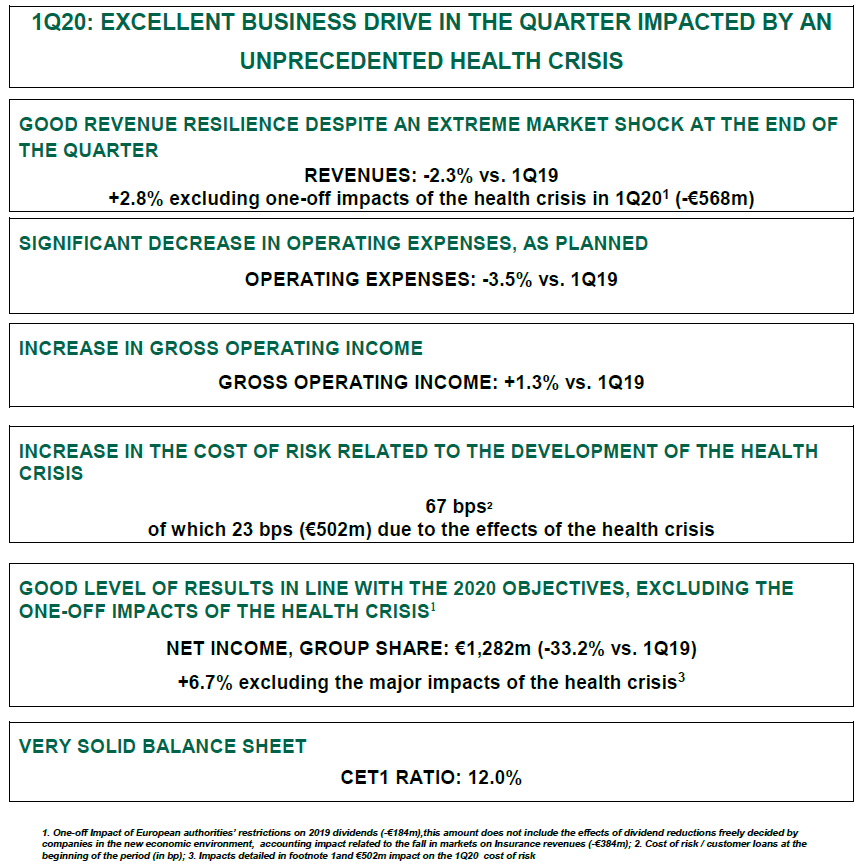 To read press release and global presentation: click HERE
Contacts:
Hacina Habchi
Tel : +33(0)7 61 97 65 20
hacina.habchi@bnpparibas.com
Sandrine Romano
Tel : +33(0)6 71 18 23 05
sandrine.romano@bnpparibas.com
Floriane Ettwiller
Tel : +33(0)7 62 27 48 34
floriane.ettwiller@bnpparibas.com
Includes significant allocation to the Americas, including in the US with donations from BNP Paribas USA and its affiliate, Bank of the West

Over $55 million in direct support to more than 30 countries providing locally for hospitals and vulnerable populations


In addition to other initiatives, BNP Paribas USA donates to NYC Health + Hospitals and Bank of the West donates to four hospitals in its West Coast footprint
NEW YORK and SAN FRANCISCO, April 09, 2020 (GLOBE NEWSWIRE) — BNP Paribas, a premier global bank, today announces additional global aid for the medical sector and at risk populations fighting the COVID-19 virus with donations now totaling over $55 million worldwide. This includes significant allocation to the Americas, including in the US with donations through BNP Paribas USA and its affiliate, Bank of the West.
BNP Paribas and its subsidiaries around the world mobilized from the start of the health crisis to support the hospital system, medical research and institutions that help the most vulnerable and disadvantaged.
BNP Paribas USA, including its affiliate Bank of the West, is making five large donations to hospitals around the US:
Martin Luther King, Jr. Community Hospital

in Los Angeles to help fund COVID-19 programs

NYC Health + Hospitals

and the

USTA

to provide direct support to some of the hardest-hit hospitals in the NYC area including Bellevue, Elmhurst, and Lincoln, as well as to the new field hospital being constructed at the USTA Billie Jean King Tennis Center in Queens

UCSF Medical Center

in San Francisco to fight COVID-19 in the Bay Area

PIH Health Good Samaritan Hospital

in Los Angeles to procure critical medical supplies

Swedish Medical Center

in Seattle to help fund COVID-19 testing
The bank is also contributing:
Personal Protective Equipment (PPE):

Bank of the West donated nearly 500,000 masks to hospitals in the communities it serves. BNP Paribas USA is also donating an additional 100,000 masks in the US

Employee Match

: BNP Paribas and Bank of the West employee donations are being matched 1:1 to charities supporting certain COVID-19 relief efforts

Virtual Volunteering

: BNP Paribas in the US has organized a Virtual Volunteer program for staff

Additional support for existing charitable partners:

BNP Paribas USA is committing additional support to many current charitable partners in New York and New Jersey who provide essential relief and recovery services to some of the area's most disadvantaged individuals. Similarly, Bank of the West donated to the United Way and the Opportunity Fund, an organization that provides capital assistance and technical support to small businesses affected by the pandemic
BNP Paribas is also making significant donations in Argentina, Brazil, Canada, Colombia, Mexico, and Peru.
"This gift will make a major contribution to keeping our front line workers safe and healing the bodies and spirits of our highly vulnerable community at a time of critical need," said Dyan Sublett, president of the MLK Community Health Foundation, which supports the work of Martin Luther King, Jr. Community Hospital. "We are incredibly thankful for this extraordinary act of generosity from Bank of the West."
"As our heroic workforce continues to confront the COVID-19 pandemic, we are grateful for the generous donation from BNP Paribas that will provide comfort to our health care workers who are working day and night to save lives," said Dr. Eric Wei, Vice President and Chief Quality Officer, NYC Health + Hospitals.​
"We appreciate Bank of the West for recognizing the dedication of our physicians, nurses and staff who are going above and beyond to provide care during this pandemic," said James R. West, President and Chief Executive Officer, PIH Health. "These funds will go a long way in providing the equipment needed to keep our professionals safe and the resources needed to continue providing excellent care to our patients and our community. We thank Bank of the West for their support."
Jean-Yves Fillion, CEO of BNP Paribas USA and Chairman of CIB Americas, stated, "This is an unprecedented time in modern history, which requires all of us to collectively do what we can to provide support to health institutions and communities as we battle this health crisis. Our donations are informed by feedback from medical experts so as to be directed to specific priorities for each country hit by the crisis where BNP Paribas has a presence. In the Americas, we are proud to be making a substantial contribution not just in monetary means, but in critical PPE as well as staff volunteering. BNP Paribas is also proactively serving its clients and business partners, and will continue to do so through the crisis."
"We are at a pivotal moment when we have the opportunity to help those impacted by the spread of COVID-19 by supporting our healthcare professionals. The need for funding and personal protective equipment is great and we are taking action," said Nandita Bakhshi, President and Chief Executive Officer of Bank of the West, Co-Chief Executive Officer of BNP Paribas USA Inc. "Bank of the West is supporting four hospitals that are vital to pandemic response and relief efforts focusing on research, testing, and clinical trials. Through these contributions, we hope to improve the health and livelihoods of those in our communities, support heroic frontline workers, and remind all of us that we are stronger together."
About BNP Paribas in the US
BNP Paribas is a premier global banking partner and has built a strong and diversified presence and product suite in the United States (US) to help serve its clients in today's changing world. The bank employs over 14,000 people and has had a presence in the US since the late 1800s. Bank of the West, BNP Paribas' retail arm, serves over two million individuals and small & businesses through a network of around 600 branches and business centers. Large corporate and institutional clients are served by BNP Paribas' Corporate & Institutional Banking franchise that has a presence in the main US cities, in addition to a wide international reach through a network of offices in EMEA and APAC. The bank also offers asset management services through BNP Paribas Asset Management as well as Real Estate and Fleet Services through partnerships. www.usa.bnpparibas.com
About Bank of the West
At Bank of the West, we know money deposited in a bank has the power to finance positive change. So we are taking action to ensure our activities help protect the planet, improve people's lives, and strengthen communities. We are redefining banking for a better future by focusing on areas where we believe we can have a real impact: supporting energy transition, helping enable women entrepreneurs, and financing innovative start-ups. As the bank for a changing world, Bank of the West is committed to sustainable finance along with our parent company BNP Paribas. Through Digital Channels and offices across the U.S., Bank of the West provides financial tools and resources to more than 2 million individuals, families and businesses.
© 2020 Bank of the West. Member FDIC. Equal Housing Lender. Doing business in South Dakota as Bank of the West California.
About BNP Paribas
BNP Paribas is a leading bank in Europe with an international reach. It has a presence in 71 countries, with approximately 199,000 employees, of which more than 151,000 are in Europe. The Group has key positions in its three main activities: Domestic Markets and International Financial Services (whose retail-banking networks and financial services are covered by Retail Banking & Services) and Corporate & Institutional Banking, which serves two client franchises: corporate clients and institutional investors. The Group helps all its clients (individuals, community associations, entrepreneurs, SMEs, corporates and institutional clients) to realize their projects through solutions spanning financing, investment, savings and protection insurance.
In Europe, the Group has four domestic markets (Belgium, France, Italy and Luxembourg) and BNP Paribas Personal Finance is the European leader in consumer lending.
BNP Paribas is rolling out its integrated retail-banking model in Mediterranean countries, in Turkey, in Eastern Europe and a large network in the western part of the United States. In its Corporate & Institutional Banking and International Financial Services activities, BNP Paribas also enjoys top positions in Europe, a strong presence in the Americas as well as a solid and fast-growing business in Asia-Pacific.
Press Contacts

BNP Paribas
Guild Taylor – 332-323-3704                                                                                         guild.taylor@us.bnpparibas.com
Bank of the West
Emily Iwan – 415-432-3696
media.relations@bankofthewest.com
Government bond yield curves suggest a prolonged recession. Do policymakers still have room to respond to future shocks? Yes says Luigi Speranza, Global Chief Economist at BNP Paribas Markets 360 – provided they approach the problem in the right intellectual framework.
Market pessimism is here to stay. Whether over global economic health or the power of central banks to improve it, the gloom is understandable.
About a third of government bonds globally and just over half of those in Europe are yielding negative rates. Looking at the shape of government bond yield curves, you would think we were in a recession – and a deep and prolonged one at that.
Some central bankers in the US and eurozone question the consensus view that they need to do more, urging caution instead. Regional presidents in the US Federal Reserve system have voiced their reluctance to cut rates further. Likewise, some influential members of the European Central Bank have expressed reservations on the urgency of resuming the quantitative easing program.
Things are not as bad as markets suggest, one argument goes, and it is worth keeping some ammunition dry. After all, labor markets are generally tight and household confidence resilient. And there are no big imbalances with the potential to trigger a significant correction.
However, there is more to market pricing than just pessimism about the short-term economic outlook. There is outright doubt among market participants that central banks and the broader policy framework have what it takes to respond to shocks.
Two key problems lie at the core of investors' concern.


First, a scarcity of policy instruments. When the next recession comes – a matter of time after 10 years of economic recovery, if history is any guide – central banks in a low-interest rate world might not have the tools to fix to it.
Central banks' failure to meet their inflation targets supports this point. The lack of inflation might be due to unusually long lags, cyclical factors or more structural issues. Much of it can be attributed to price expectations – which tend to reflect experience – trending lower, an unusual occurrence at this advanced stage of the economic cycle.
Whatever the reason, inflation remains stubbornly low. That is despite unprecedented monetary policy stimulus, including sizeable QE programs and exceptionally low or even negative interest rates. It is the case even in economies that are operating close to full potential, such as the US.
Persistently low inflation leaves central banks with scope for additional easing, and we believe they will use it, despite some policymakers' reluctance.
But if that easing has not worked so far, why should it work now? The Fed cuts rates by about five percentage points in a typical recession. In the last cycle, it resorted to unconventional monetary policy, but it does not seem to have had the hoped-for result.
In many economies, growth is being hobbled by structural factors or uncertainty, not by credit supply constraints. Policymakers might find their emergency response channels stymied, as neither low interest rates nor expectations are easily moved when a large portion of the G10 nations' government bond market attracts a negative yield.
Combine some policymakers' doubts about the need for action with doubts about the potential impact of such action and it's questionable whether central bankers have what it takes to jolt the economy out of its lethargy.
Second, and more fundamentally, there is a scarcity of ideas. Conventional macroeconomic models have not kept up with reality. Central bankers' caution about further monetary easing is built on economic models that failed to predict and understand the global financial crisis and are failing to explain why inflation remains subdued after a decade of uninterrupted growth.
The challenges to mainstream economics posed by the Depression of the 1930s and the inflationary shocks of the 1970s sparked intellectual revolutions. The former gave birth to Keynesian interventionism. The latter bolstered the monetarist theories that came to form the basis of the current framework of central bank independence and inflation targeting.
Today's challenge is on a similar scale. What is needed is humility and ambition. Humility in acknowledging the shortcomings of the current intellectual framework and ambition in putting aside the caution about action and using all available means to mount an aggressive policy response.
While we wait for the new academic underpinnings to emerge, the answer to the global economy's quandary lies in bold, co-ordinated monetary policy in concert with fiscal measures, adding up to something close to debt monetization. That is where governments issue debt to finance spending and the central bank purchases the debt on secondary markets, thereby increasing the money supply.
This may not work, either, but the worst-case outcome would be too much inflation, and inflation is an enemy we know and, crucially, know how to fight with the trusty, traditional arsenal.
The sort of policy response that might lead to a normalization of the rate environment requires political will and time. Meanwhile, we expect markets to remain skeptical and yields downcast.

FOLLOW US: @BNPPamericas
More articles here
To learn more about Markets 360 Strategy and Economics from BNP Paribas,click here.
BNP Paribas does not consider this content to be "Research" as defined under the MiFID II unbundling rules. If you are subject to inducement and unbundling rules, you should consider making your own assessment as to the characterization of this content.
Legal notice for marketing documents, referencing to whom this communication is directed.
Following on from their preliminary agreement, BNP Paribas and Deutsche Bank have signed a master transaction agreement to provide continuity of service to Deutsche Bank's Global Prime Finance and Electronic Equities clients. Under the agreement Deutsche Bank will continue to operate the platform until clients can be migrated to BNP Paribas.
Both firms will work closely together to ensure a seamless transition for clients, through the migration of technology and key staff from Deutsche Bank to BNP Paribas. This binding agreement remains subject to regulatory approvals of the relevant authorities.
"We are pleased to have signed the master transaction agreement with BNP Paribas on schedule. This is an important milestone for our Capital Release Unit and attests to the strength of our client offering and technology in these products. We are already making progress and are on the right track to implement this transaction thereby providing clear path for clients and staff," said Frank Kuhnke, Chief Operating Officer, Deutsche Bank.
"I'm excited to announce the signing of this agreement, thanks to the close cooperation between BNP Paribas and Deutsche Bank teams. We are now looking forward to welcoming staff and serving these new clients. This agreement demonstrates BNP Paribas' strong commitment to institutional investors globally," said Yann Gérardin, Deputy Chief Operating Officer and Head of Corporate and Institutional Banking, BNP Paribas.
Download the Press Release here
Contact:
Hacina Habchi, +33 (0)1 43 16 86 88, hacina.habchi@bnpparibas.com
Follow us:
Twitter – @BNPPamericas
BNP Paribas is taking part in Climate Week, which runs from September 23 to 29 in New York.
The bank reinforces its action on climate and sustainability, which is central to its business strategy, by signing the Principles for Responsible Banking and joining UNEP FI's Collective Commitment to Climate Action.
Climate Week provides a forum for leading organisations around the world to take additional action to contribute to the UN's 17 Sustainable Development Goals (SDGs): BNP Paribas formalises its commitment to SDG 14 "Life below water" and discloses its actions in favour of ocean protection.
A WORLDWIDE BANKING COMMITMENT TO THE UN SUSTAINABLE DEVELOPMENT GOALS
Climate Week 2019 notably sees the launch of the Principles for Responsible Banking (PRB). By signing the PRB, more than 130 banks have committed to align their business strategies with the UN Sustainable Development Goals and the Paris Climate Agreement.
The PRB were first developed in 2018 by a core group of 30 Founding Banks, among them BNP Paribas, through an innovative global partnership between banks and the UNEP Finance Initiative (UNEP FI). Then, banks, as well as other financial institutions and all other interested parties, provided inputs during a six-month global public consultation from November 2018 to 31 May 2019. It is the first time that such a large coalition of banks, which together account for around a third of the world's banking assets, have placed the Sustainable Development Goals and Paris Climate Agreement at the heart of an action plan.
Furthermore, 31 signatory banks of the PRB, including BNP Paribas, have endorsed the Collective Commitment to Climate Action. In line with the Paris Agreement, these banks have committed to align their portfolios to reflect and finance the low-carbon, climate-resilient economy required to limit global warming to well-below 2, and striving for 1.5 degrees Celsius. By putting their PRB commitments into practice and building on the pioneering Katowice Commitment, this Collective Commitment on Climate represents a further joint effort undertaken by the banking community to advance climate action.
BNP PARIBAS SEEKS TO ACTIVELY TAKE PART IN THE PRESERVATION OF THE OCEAN
The ocean is critical for our planet since it accounts for 70% of its total surface from the coastal areas down to its greater depths. The ocean is a cradle of extraordinary and precious biodiversity for the balance of life on earth, and provides human beings with essential resources, sustains food security and health, and preserves habitats; it also plays a key role in the oxygen cycle and in climate regulation, and is a vector of the globalised economy, generating direct and indirect jobs.
In this context, in line with its commitment to contribute to reaching the United Nations' Sustainable Development Goals (SDGs), particularly through its financing and investing activities, BNP Paribas states its willingness to work with its clients towards the achievement of SDG 14 ("Life below Water") for the conservation and a sustainable use of the ocean. It is particularly important to collectively strengthen the support of the business community for this SDG.  The SDG Reporting Challenge 2018 published by PwC indicates that SDG 14 ranks for the moment last in corporate priorities[1].
The Group is aware that the activities of a number of its clients depend on the safeguarding of the ocean, but also that some of them, although highly necessary to the economy, may be contributing to the disruption of its ecosystem. Therefore, BNP Paribas commits to finance in a responsible manner activities likely to impact the ocean.
Seeking to take an active part in the preservation of the ocean, BNP Paribas supports the implementation of best practices and commits 1bn Euros by 2025 to finance the ecological transition of ships, supporting for example dual-fuel Liquefied Natural Gas (LNG) propulsion projects. In a complementary way, BNP Paribas promotes innovation and initiatives to raise awareness, such as with BNP Paribas Foundation's support for research programmes focusing on the ocean.
"BNP Paribas has put the SDGs at the centre of its business-development strategy and by the end of 2018 had devoted €168bn of financing to the energy transition and the achievement of the SDGs. In order to go further in tackling climate change, the Group is stepping up its collaboration with partners as well as its commitment to working in new coalitions," said Antoine Sire, Head of Company Engagement, BNP Paribas.
"Oceans today are under great threat. Through its commitment to finance maritime activities sustainably, BNP Paribas is illustrating how companies can, and must, contribute to protecting oceans," said Craig Leeson, Director, Writer and Narrator of the documentary film A Plastic Ocean.
[1] Source: PwC, SDG Reporting Challenge 2018 Base:Companies with priority SDGs (362)
Learn more about:
– BNP Paribas and Ocean protection
– Principles of Responsible Banking
– BNP Paribas Group
Follow us:
Twitter – @BNPParibas & @BNPPamericas
BNP Paribas has again been recognized for its client-focus and innovation in the 2019 Asia Risk awards, with big wins for Japan House of the Year and the publication's inaugural Custodian of the Year.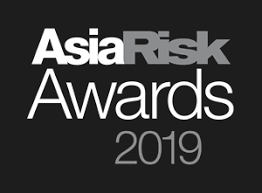 Eric Raynaud, CEO of BNP Paribas in Asia Pacific commented "These two Asia Risk awards recognize our commitment to our clients and our team's focus on innovating with new solutions.  This is a wonderful reward for the hard work and dedication of our teams".
Asia Risk heard first-hand from our clients about the solutions we're providing to help them grow, despite the challenging external environment. We were praised for our ability to innovate and find new solutions.
"BNP Paribas has applied its cross-asset mindset to its traditional distribution business and insurance solutions activities, where its teams cover all asset classes," Asia Risk said of our Japan win. "This has allowed BNP Paribas to be nimble and quickly adapt to changing market conditions, and identify investment opportunities. It has also relied on its global pricing and trading platform – Smart Derivatives – to automatically serve clients as it manages more than 2,500 QIS strategies."
BNP Paribas Securities Services' ability to innovate was similarly recognized, with Asia Risk commenting: "The services for which it is winning mandates include traditional areas of work, such as custody, investment administration and performance reporting, but also innovative new lines such as data-as-a-service, which help it to support firms as they evolve into more digital ways of working, and clients with more quantitative approaches to investment."
It is the third time in the past four years that we have scooped top honors for our Japan business and an exciting first win for the newly created Custodian category in Asia, demonstrating our excellence and client-focus.
Our teams were in Singapore to collect the awards and you can find below the full write-ups, along with social media posts for you to share with your clients. Congratulations again to all involved!
To learn more, please read the following CIB Website articles:
Follow us:
Twitter – @BNParibas – @BNPPamericas