On December 4, 2018, BNP Paribas visited the Nasdaq MarketSite in Times Square to ring the Opening Bell in celebration of the bank's lasting partnership with Nasdaq. Bob Hawley, CEO of CIB Americas, was joined by BNP Paribas employees as he rang the Opening Bell to signal the start of the trading day.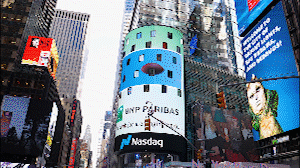 Tal Cohen, Head of North American Equities at Nasdaq, kicked off the ceremony by highlighting BNP Paribas' history and presence in the US and its collaboration with Nasdaq.
Prior to the bell ringing, Hawley gave a few words of thanks to the "tens of thousands of BNP Paribas Group employees, both those in the US and those around the world for their dedication and continued commitment." He was also presented with the Opening Bell ceremony crystal on behalf of the bank.
The Opening Bell ceremony was broadcast live on Bloomberg, CNBC, Fox Business News and BNN, and was also live-streaming on the Nasdaq Tower in Times Square and on Nasdaq.com. In honor of the occasion, the Bank's brand was displayed on the Nasdaq MarketSite tower in Times Square.

Photography by Libby Greene/Nasdaq, Inc.