Treasury is the orchestra of every company.
May 28, 2015
Corporate Treasurers are the conductors to drive and articulate the entire organization.
BNP Paribas and Boston Consulting Group have partnered to release Corporate Treasury Insights 2015.
Discover a clear framework for understanding the Corporate Treasury landscape.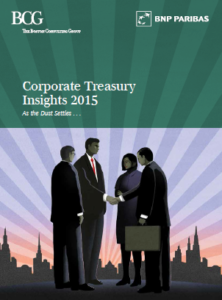 The initiative was designed to establish how the role of treasurers has evolved in the post financial crisis era and better approach the transaction banking expectations in today's financial environment.
The report, based on a survey conducted across the globe, across company sizes, sectors and geographies, will provide you with an insight in some key themes to be monitored in the coming months.
– Meeting basic client service expectations
– Developing new areas of differentiation
– Understanding the challenges of digitization
– Offering new portals and platforms